group
companies
There is no denying of the fact that stainless steel is the part and parcel of everyone's life. Right from a small needle to the sophisticated part of a space shuttle, majority of the items contain a varying percentile of steel. With the perfect blend of ultra modern techniques and a strong army of trained engineers, Dhiraj Fabricators has earned immense success by delivering higher grade stainless steel solutions at affordable prices. The noted manufacturer, exporter and supplier offers an unparalleled range of stainless steel equipments, stainless steel handles, flame guards, clips, tongs, wire rod handles, etc.
As a quality driven organization, we follow stringent quality control measures at every level of our operations to ensure an error free production. Our sincere approach towards product innovation and client satisfaction bears fruits for us in the form of innumerable clients spread at every corner of the globe. With major stress being laid on after sales service, we aim at setting new milestones while maintaining the distinctiveness of our products.

OUR
Products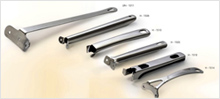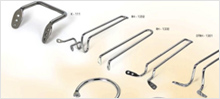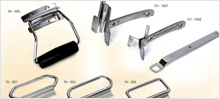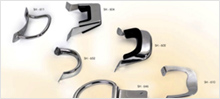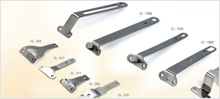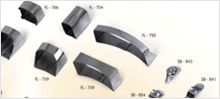 Client
List

















OUR
Quality

We are keenly administered by a strict quality management program that facilitates smooth and error free production from every stage of the manufacturing procedure. Each concerned stage at Dhiraj Fabricators is monitored by a team of diligent quality inspectors that hardly leaves even the marginal possibility of quality degradation. We take great pride in witnessing that our products have set standards for performance and reliability all around the globe. Committed towards total client satisfaction, we deliver our products only after taking proper trial.

Timely
Delivery
Our company owns a spacious storage facility and a wide distribution network of dealers, that facilitates hassle free and frequent movement of goods to the market. We are capable of feeding bulk demand in the shortest possible time frame.

our
Infrastructure
Dhiraj Fabricators owns an advance manufacturing unit equipped with the latest machines & equipments and excellent human resources to engineer unmatched stainless steel items. Every task is completed by employing modern techniques to ensure smooth and frequent production. We also possess an advance testing facility to conduct various tests on our products.

OUR
Hallmarks
»
Wide range of superior products under one roof
»
World class quality to cater to the client's desirable thirst
»
Stringent quality control measures to ensure flawless production
»
Goodwill in the domestic and international markets owing to integrity, reliability, innovation and customer focus
»
Detailed attention to the valuable feedback and suggestions of our esteemed clients
»
Committed to deliver the best, leaving no room for customer grievances.